Exhibits
DC State Fair Photography Contest (2010)
Ten Miles Square sponsored and juried the photography contest for the inaugural DC State Fair photography contest.
Fixation @ Industry Gallery (2009)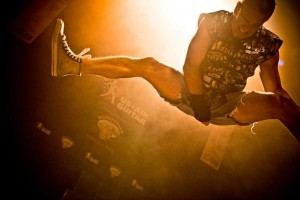 Join Ten Miles Square and the Pink Line Project at Industry Gallery with the work of nine local photographers fixated on a local subculture for the second annual Fixation exhibit, Saturday, November 7, 2009, part of the FotoweekDC festival.
Featured photographers: Nicole Aguirre, Karon Flage, Angela Kleis, Drew McDermott, Amit Mehta, Pat Padua, Jay Westcott, Aziz Yazdani, and Joshua Yospyn. Performances by: Yoko K!, ayyoko confidential, and Suspicious Package. 
Microscopy @ Hounshell (2009)
The work of Pat Padua and Jennifer Wade were featured in Microscopy at Hounshell (1506 14th Street NW) on September 12, 2009.
Padua and Wade take a closer look, literally and figuratively, at the minutiae of life. Padua's photographs feature the quirky side of Americana that constantly seesaws between the oddly humorous and vaguely depressing. He takes his microscope to a modern society that seems to have little interest in (or perhaps knowledge of) any world that exists outside the frame.
Jennifer Wade takes a more literal approach to her Microscopy. A scientist by trade, she uses a scanning electron microscope to turn every day items into the soaring patterns of mountains and sheer cliffs of a cracked ring, swirls of atoms on chunk of coral, or the rushing current of fibers on a cut piece of paper. Much like Padua's photos, they remind the viewer that it's possible to both lean closer and step way back, and encourage the viewers to find their own perspectives.
Many thanks to the Pink Line Project for helping make Microscopy possible.
Flaunt @ Honfleur Gallery (2009)
Flaunt: Photography & Fashion Collaboration was a special exhibition showcasing emerging local talent in photography and fashion design featuring an exhibit opening on April 25, 2009 and a runway show on June 6, 2009. Flaunt, produced by Ten Miles Square and Project Beltway, LLC, featured new portrait work by photographers Joshua Yospyn, John Ulaszek, Meaghan Gay, and Steve Goldenberg, with fashions by local designers Dana Greaves, Taimur Baig, Lara Akinsaya, and Will Sharp. An artistic experiment of sorts, the show was meant not only to ignite discussion about fashion photography as a genre, but also to remind D.C. residents and artists of the ongoing need for a strong artistic- and affordable- voice in the community.
 I'm With the Band @ Dahlak (2008)
I'm With the Band featured the work of three D.C. photographers who combine their passions for music and photography to capture the spirit and energy of local artists and headliners alike.
Kyle Gustafson has been used in several major publications including the Washington Post, Toronto Star, the Sun (UK), Heat Magazine, Twist Magazine, as well as the websites DCist, NME, Rollingstone, Pitchforkmedia, and Huffingtonpost. Martin Locraft has been featured in DC Magazine, and his work has been seen on DCist, OnTap, the Onion, the GW Hatchet, and Arlington Connection. Nestor Diaz has had images in SPIN, Rollingstone, RVA magazine, Pitchfork and DCist.
Fixation @ Fight Club (2008)
Ten Miles Square partnered with The Pink Line Project to present Fixation with work by nine photographers as part of the 2008 Fotoweek DC festival, opening November 14, 2008.
Fight Club, 1250 9th Street NW (enter through Blagden Alley on N Street between 9th and 10th Streets)
Photographers: Chris Chen, Tracy Clayton, Max Cook, Steve Goldenberg, Cesar Lujan, Brian Knight, Anthony Smallwood, John Ulaszek, Joshua Yospyn
These photographs inspect our city's subculture and the people who thrive in it, whether it is the pure ecstasy of a public baptism or the discovery of an elusive quiet moment as 18th Street rages nearby. Some create their own scenes, driven by the absurdity or crucial absences in our cityscapes. Others sneak in the backdoor of highly defined alternative lifestyles, finding characters dolled up for primetime, squeezed in the underbelly of the D.C. club scene. What they all have in common is a fixation on the individual in the hands of a much bigger picture.
Looking Sideways @ Big Bear Cafe (2008)
Cesar Lujan takes images that present a bit of a role reversal. Rather than landscapes and settings merely providing context for people and their actions, Lujan sees the idle presence of people creating the context for what becomes the real main characters here: impressive architecture and unusual urban scenes.
Move Along @ BloomBars (2008)
Move Along features the work of four emerging photographers who capture scenes that pass briefly before our eyes, perhaps preferring that we look away but only succeeding in making us gaze longer. Tracy Clayton is a street photographer with an eye for subtle movement and brief moments that end before we fully noticed they happened. Pat Padua's sense of humor gives us images that aren't momentary so much as they are oddly uncomfortable. Katy Ray's time in New Orleans puts a nostalgic filter on her scenes, and the feeling we'll soon miss the memory it gives us. By contrast, Matt Smith's highly constructed work explores the connections between the emotional loss experienced by the subjects in the text, and the ways in which these memories can develop direct associations to our physical surroundings. Each of their images focuses on the scenes that are fleeting, whether we want them to be or not, and asks what happens when you weigh it a little longer than you should.
Other Ten Miles Square Contributions